With the international release of her album "Walking In Twos" featuring the legendary Stephen Stills, about how stepping in someone else's shoes can inspire world peace, Amanda has a vision for bringing the east and west together in song through music, and a talent that is truly living her purpose, you can't help but get excited when you hear her voice.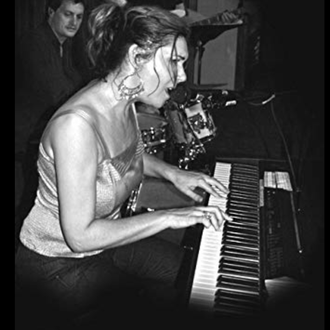 Amanda is a chameleon and a master of many trades. For music fans who love an international flair with positive, conscious music that inspires, we've found the artist for you. Often her vocals have been described as a cross between Sara Bareilles and Sarah McLaughlin, musically her songs are a fusion mix of Neo-soul meets World. Singer/songwriter, Amanda Abizaid's recent album "Walking In Twos" features the legendary Stephen Stills and has won several awards from prestigious competitions such as USA Songwriting Competition, Global Music Awards, Los Angeles Film Awards, Global Film Festival Awards, Clouzine International music awards and others. The New York Times thanked her for her vocals on the Emmy winning theme song "A Place In Time" for Paramount's The 4400. Amanda has had songs on LIFETIME, PARAMOUNT, THE WB, and VH1. CBS, NBC and FOX, has performed live for audiences of up to 2500 people, and was interviewed by Forbes.com and Kababayan Today with G Tongi LA 18 TV. Amanda is a tall, brunette, green-eyed singer/songwriter/flautist/pianist originally from Lebanon with a powerful, sultry voice, captivating stage presence, meaningful lyrics, and exotic melodies impossible not to take you on a journey; fans around the world have gravitated to Amanda's instinctive musical talent, her permanent smile and infectious laughter.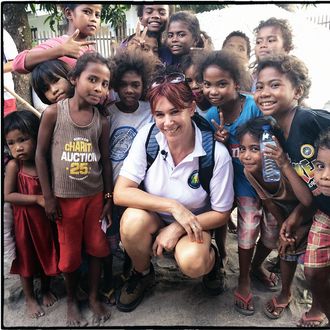 Something that makes Amanda so unique is that she is also an artist who teaches songwriting and world peace to children around the world. She combines her on-stage charisma with her inspiring personal stories, original songs, and keyboards, which has prepared her to provide "Keynote Concerts". Amanda has performed and spoken around the world to hundreds of children through different non-profit organizations. She is broadening her talents to be available for peace clubs, workshops, colleges, and conferences. She has collaborated with the legendary Stephen Stills and has shared the stage with other #1 best selling artists such as Herbie Hancock, Wayne Shorter, Lou Rawls Jr., David Ruffin Jr., Todd Sucherman (Styx), Vivian Campbell (Def Leppard), Stephen Mark Weitz and Howard Anderson (Strawberry Alarm Clock), Bird York, Lili Haydn and many others. As a flautist she has performed with The American Victory Orchestra for several Daniel Pearl concerts and is currently a soprano singer with the Metropolitan Master Chorale. Amanda has moved audiences for the past 20 years. During her childhood, she lived in Beirut where experiencing war first hand has taken this experience and transformed it into a rare opportunity to inspire her audience through her sense of humor, peaceful and loving way of speaking. She gives children a head start from her workshops that send them off and running ahead encouraged to build on their lives using their sorrow and turning it into passion for life.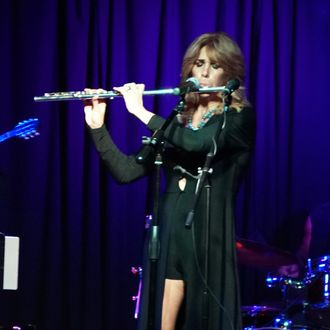 Despite growing up during a time of war, Amanda's career as a singer/songwriter didn't materialize until she intuitively drove out and moved to Los Angeles...just a few days after she was offered a spot modeling for Chanel. Shortly after, a close friend who had heard Amanda sing at The Gig in Hollywood, insisted that she explore the world of session singing as their production company Bosshouse Music's only singer. Not realizing the success ahead, Amanda began singing several songs for TV and Film with actors such as Aly Sheedy and Charisma Carpenter, lip-syncing to her voice on VH1's Strange Frequency starring Roger Daltrey and singing a duet with Sebastian Bach, front man of Skid Row. Amanda's dream was to be a singer not a singer songwriter so this was indeed a dream gig for her. As she began to work with these artists, her own songwriting began to develop. Her best songwriting advice came from her mentor and now friend Stephen Stills – write the story, play a couple guitar hooks and the rest will follow. Now as a front man in her first band Blue, she began to co-write her first song "Timeless" which became the featured song of her first indie thriller sort film where she starred, "Facing The Lion", executive producer Scott Spiegel.
Amanda has received radio play from countries around the world including the U.S. and has been featured on some of Southern California's most popular radio stations such as KCRW 89.9FM. Aside from her international success, Amanda can be found teaching peace club workshops at the Los Angeles museum and can be heard performing at colleges and Cultural luncheon events. When she's not traveling, you can catch Amanda live online at Stageit.com and some of the most popular venues in her home town of Los Angeles performing at local venues such as Genghis Cohen, Molly Malone's, Feinstein's, large college campuses including UCLA where she has sang the star spangled banner on several occasions at Pauley Pavilion, Jackie Robinson Stadium and other highly regarded venues such as the The Mint, The Roxy and The Rainbow Room. She has also performed live on Los Angeles's most-watched morning Pilipino news show Kababayan Today Channel 18 TV.
World Collaboration
I was approached by my dear friend Irene Gottlieb to rerecord my song "Walking In Twos". She and I spoke many times about how we could inspire hope and optimism through the language of music during these difficult times. Los Angeles producer Chuck Cymone, a close friend to Irene, knew exactly how to record "Walking In Twos" to do just that. 
"Walking In Twos" by Amanda and Friends was recorded with authentic inspiration and instruments from Pyret Beats and vocals from Uganda, New Zealand, Lebanon, USA and Mexico. This is a true global collaboration sponsored by the Anne Frank Center for Mutual Respect and the Westcoast Black Theatre Troupe in the style of Michael Jacksons "We Are The World". This will be an event to see when we bring our collaboration together for a live in person performance. 
"We can save the world with a smile, we can love the world like a child, step in someone else's shoes, let the magic begin walking in twos." 
Together, let's elevate our lives, Amanda 
Please tag and share: #WalkingInTwos #AmandaandFriends #newrelease #newsong #inspirational #WeAreTheWorld #LiveAid
Stay tuned for Amanda's new album "Cover Me" this Spring, a collection of her favorite cover songs.